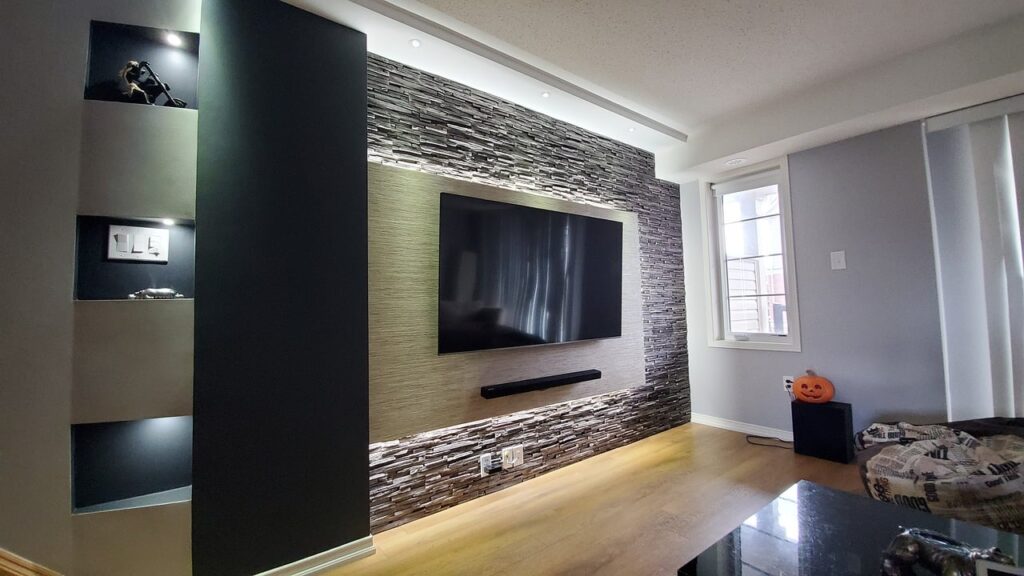 Is It Worth Investing in a Finished Basement? Exploring the Benefits of Basement Remodeling
Introduction:
Are you considering whether it's worth investing in finishing your basement? If so, you're not alone. Many homeowners are recognizing the untapped potential of this often neglected space beneath their homes. In this blog, we will explore the benefits of basement remodeling and help you determine if it's a worthy investment for you and your family.
Maximizing Your Home's Potential:
When you choose to finish your basement, you're effectively maximizing the potential of your home. Instead of leaving this valuable square footage unused or merely for storage, a finished basement provides a whole new level of livability. It opens up opportunities to create additional bedrooms, entertainment areas, home offices, or even a personalized sanctuary. By transforming your basement, you're making the most of the space you already have.
Expanding Your Living Space:
One of the primary advantages of finishing your basement is the significant increase in living space it provides. This additional square footage can make a substantial difference in your daily life. Whether you have a growing family, need a dedicated space for hobbies or work, or simply desire a comfortable retreat, a finished basement offers the flexibility to cater to your specific needs. It provides room for everyone to spread out and enjoy their own designated areas.
Enhancing Functionality and Versatility:
A finished basement enhances the functionality and versatility of your home. It allows you to design the space according to your unique requirements and interests. You can create a home theater for family movie nights, a playroom for the kids, a home gym to stay fit, or a guest suite for visiting friends and family. The possibilities are endless, and you have the freedom to customize the basement to suit your lifestyle and preferences.
Adding Value to Your Property:
Investing in basement remodeling can also increase the value of your property. A finished basement is a desirable feature that can set your home apart from others on the market. It adds to the overall square footage and functionality of your property, making it more appealing to potential buyers. Should you decide to sell in the future, a finished basement can potentially result in a higher resale value and attract more interested buyers.
Creating an Emotional Connection:
Beyond the tangible benefits, a finished basement can create an emotional connection within your home. It becomes a space where cherished memories are made, whether it's spending quality time with loved ones, hosting gatherings, or pursuing hobbies and passions. The personalized touch and attention to detail in your basement remodeling project can evoke a sense of pride and comfort, enhancing the overall emotional value of your home.
A basement renovation can be a smart investment, transforming your underutilized area into a functional and appealing living space. Whether you're planning to create a new bedroom, a home office, a recreational area, or a guest suite, there are plenty of creative and affordable ideas to consider. Let's explore some options that can enhance both the aesthetic appeal and value of your home.
Open Concept Layout: If your basement feels dark and cramped, opening up the space with an open concept layout can make a significant difference. Remove unnecessary walls and partitions to create a more spacious and inviting atmosphere. This layout is perfect for creating a versatile living area or a home entertainment space where family and friends can gather.
Home Theater: Transform your basement into a cozy home theater where you can enjoy movie nights and immersive entertainment experiences. Install a projection screen or a large flat-screen TV, comfortable seating, and surround sound speakers. Incorporate dimmable lighting to set the right mood and consider adding a popcorn machine or a mini bar for that true theater experience.
Home Office or Study: With the rise of remote work and the need for a dedicated workspace, a basement renovation can provide the perfect opportunity to create a functional home office or study. Install ample storage solutions, a spacious desk, ergonomic chairs, and good lighting to create a productive and inspiring work environment. Consider adding built-in shelves or a bookcase for organizing books and displaying decor.
Fitness Area: Bring the gym home by converting your basement into a fitness area. Install rubber flooring or durable materials that can withstand heavy equipment. Consider adding mirrors to create the illusion of a larger space and enhance your workout experience. Incorporate gym equipment such as treadmills, stationary bikes, weights, or a yoga area to cater to your fitness preferences.
Guest Suite: Turn your basement into a comfortable and private guest suite. Include a bedroom, a bathroom, and a small living area to provide a welcoming space for your guests. Optimize storage with built-in closets or wardrobes and ensure proper insulation and ventilation for a comfortable stay.
Playroom or Game Room: Create a fun and entertaining space for your family and friends by designing a playroom or game room in your basement. Include a pool table, foosball table, ping pong table, or board games for endless hours of enjoyment. Add comfortable seating, vibrant colors, and creative lighting to make it a lively and enjoyable space for all ages.
Creative Storage Solutions: Basements often serve as storage areas, but they can become cluttered and disorganized. Incorporate smart storage solutions into your basement renovation, such as built-in shelves, cabinets, or wall-mounted storage systems. Maximize vertical space and utilize under-stair storage to keep your belongings organized and create a clean and functional environment.
Remember, a successful basement renovation involves careful planning, budgeting, and hiring a professional contractor experienced in basement remodeling. They can guide you through the process, provide expert advice, and ensure that your renovation is executed efficiently and up to code.
By considering these creative and affordable ideas, you can add value to your home, expand your living space, and create a functional and enjoyable area in your basement. Ready to embark on your basement renovation journey? Contact our team at Revive Remodel to explore the possibilities and turn your basement into a valuable asset for your home.
Conclusion:
Investing in a finished basement can be a game-changer for your home and lifestyle. It unlocks the hidden potential of your property, providing additional living space, enhanced functionality, and increased property value. The versatility and customization options allow you to create a space that aligns with your unique needs and preferences. Ultimately, the decision to invest in a finished basement depends on your specific circumstances and long-term goals. Consider the benefits and possibilities, and make an informed choice that enhances your home and enriches your daily life.