Elevate Your Space: Basement Finishing and Remodeling Cost in Iowa 2023 with Revive Remodel
Introduction: Unlock the full potential of your basement with Revive Remodel, your trusted partner in creating beautiful and functional living spaces. If you're considering a basement finishing or remodeling project in Iowa in 2023, it's essential to have a clear understanding of the potential costs involved. In this blog post, we'll explore the average costs and the exceptional value Revive Remodel brings to your project.
Factors Influencing Cost: Several factors contribute to the overall cost of basement finishing and remodeling projects. These include:
Size and Layout: The square footage and layout of your basement play a significant role in determining the cost. Larger basements or those requiring structural modifications may involve higher expenses.
Design and Customization: The complexity of your desired design, including custom features like additional rooms, bathrooms, or unique architectural elements, can impact the cost.
Materials and Finishes: Revive Remodel offers a range of high-quality materials and finishes, each with varying costs. Your selection of flooring, lighting fixtures, cabinetry, countertops, and other finishes will influence the overall budget.
Plumbing and Electrical Work: If your basement remodel involves adding or relocating plumbing fixtures, electrical wiring, or HVAC systems, these additional services may contribute to the cost.
Permits and Inspections: Revive Remodel ensures compliance with local building codes by obtaining necessary permits and scheduling inspections, which may be an additional cost consideration.
Average Cost Range: In Iowa, the average cost for basement finishing and remodeling in 2023 ranges from $30 to $75 per square foot. It's important to note that these figures are estimates and can vary depending on the specific details and customization of your project.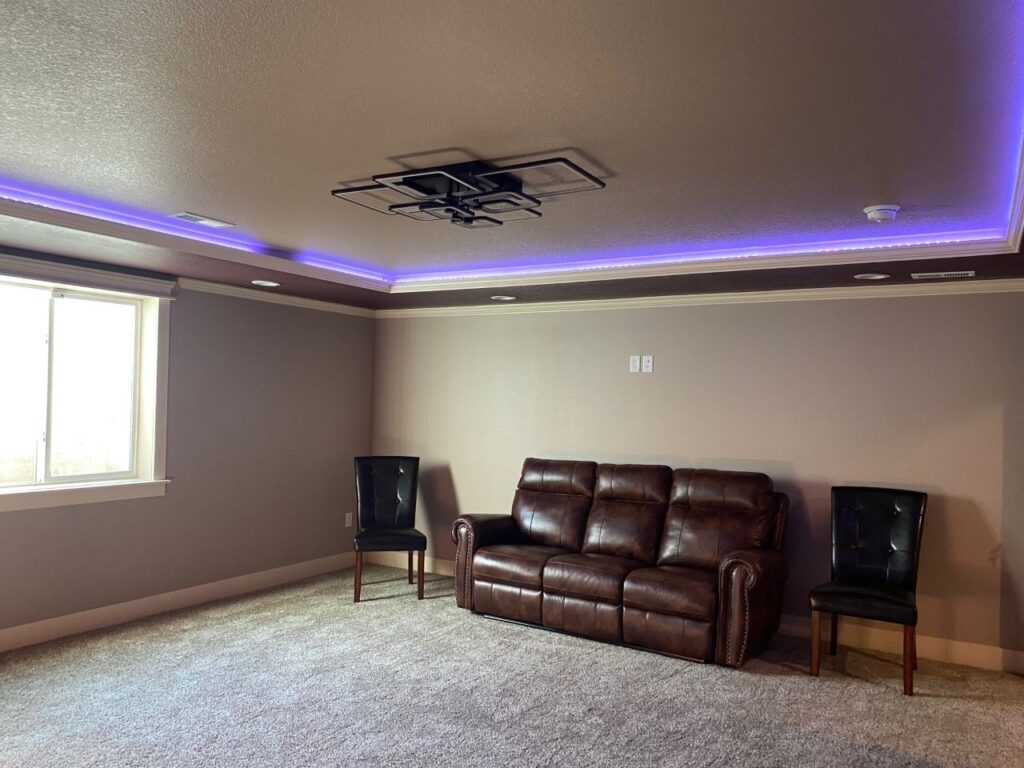 The Revive Remodel Advantage: When partnering with Revive Remodel, you gain access to a team of experienced professionals dedicated to delivering exceptional results. Here's what sets us apart:
Personalized Consultations: Our experts listen to your vision, assess your basement space, and provide tailored recommendations to meet your unique requirements.
Quality Craftsmanship: Revive Remodel takes pride in delivering top-notch craftsmanship. Our skilled team ensures meticulous attention to detail and uses premium materials to create stunning finishes that stand the test of time.
Transparent Pricing: We provide transparent and detailed pricing estimates, allowing you to make informed decisions. Our team works closely with you to stay within your budget while maintaining the highest quality standards.
Efficient Timelines: Revive Remodel understands the importance of timeliness. We strive to complete projects within agreed-upon timelines, minimizing disruption to your daily routine.
Customer Satisfaction: We prioritize customer satisfaction above all else. Our commitment to open communication, professionalism, and exceptional service ensures that your experience with Revive Remodel exceeds expectations.
Conclusion: As you embark on your basement finishing or remodeling project in Iowa in 2023, Revive Remodel is here to make your vision a reality. While the average cost range falls between $30 and $75 per square foot, the actual cost will depend on factors specific to your project. By choosing Revive Remodel, you can trust in our expertise, dedication to quality, and commitment to customer satisfaction. Contact us today for a personalized consultation and unlock the true potential of your basement space.